Podcast: Play in new window | Download (Duration: 54:11 — 18.6MB) | Embed
Subscribe: RSS
Hello again;
I hope you are all doing well. I had some scheduling difficulties with a guest, so I'm sharing a previously recorded interview that you probably haven't heard unless you are subscribed to my youtube channel. ?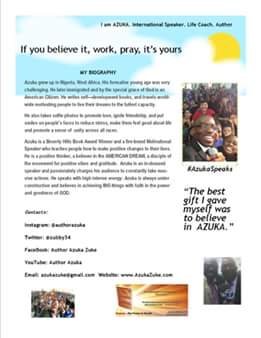 This time my guest is the incomparable inspirational motivational author and speaker Azuka Zuke.
I met Azuka at Dreamcon. He spoke right after I finished my talk. I remember thinking that if I had had to follow this freak of nature that I would have turned right around and went back to my seat.
Okay, we both know I wouldn't have done it, but trust me when I say that thought was running through my mind as I sat there listening to this man totally dominate the microphone and the room.
I was shocked to hear this man mention me personally from the stage. He said I was the real inspiration. To me he seemed larger than life and here he was saying I inspired him.
I get this often. However, there is something about having someone say it in person. There is also power when it comes from someone who you have decided is better at doing the thing it is you know you were called to do yourself.
During the question and answer period I was moved to ask him to be my speaking mentor. If you know anything about me, you know that I act on these thoughts. I was grateful to have him say yes. And we've been friends since.
A couple of his suggestions are that I sing the song I sang after Dreamcon was over as part of my talks. He said you can sing it in the beginning or end or both but you have to do that.
He said you can make it one of the unique parts about your presentations. I told him that I often had the feeling people liked to hear me sing more than they liked to hear me talk.
He also said that when I talk or sing I need to breath deeply and bring my words and music from my belly.
He also agreed with me that I have a great story and should never cut it short unless asked to by my host.
So, I was honored to get Azuka on my show. I knew he would be amazing, and he did not disappoint. He brought that energy from the stage right into my bedroom. And he's going to bring it right into your home, car, office, or wherever you listen to this.
You may even want to download this one and save it somewhere you can watch or listen to it over and over again.
Please support my sponsor
Chip and Pam Edwards of Create My Voice.
are responsible for making my blog and podcast available on Alexa and Google.
You can say Alexa play The Blind Blogger or Alexa play the What's Your Excuse? Show.
You can also say Alexa play Create my voice.
And in google you can say okay Google talk to The Blind Blogger
And you can also say Google okay talk to Create My Voice.
Chip is also an expert on using these wireless speakers and smart phone apps to create an audio presence for your brand.
I hope you will Reach out to him.
Topics Covered
Coming to America
making connections
having faith in God
being a unique speaker
asking for what you need
dealing with fear
his first book
the future for Azuka
I can't wait to hear what you think of this interview.
On With The Show
Please support my sponsor
Alex at The Neato Shop
is the merchandise provider for my What's Your Excuse? merchandise.
His shirts are well-made, reasonably-priced, and will make you look great when worn by your customers, fans, and followers.
The submission process is simple, and the ordering process is well run.
Delivery times and the completeness of my orders has been great.
And as a blind business owner he makes it easy on me to offer merchandise while using a screen reader.
If you would like to add your art work to Neato Shop and have it available for sale worldwide, I'd be happy to make an introduction.
About Azuka
I grew up in Nigeria, West Africa. Having found himself under the guidance of parents who were tough,there was total discipline at home which later became a moving force in his drive to succeed.
Over time, he immigrated to The United States of America and have continued to motivate people having made a career of empowering others. He inspires and encourages others to be the best they can be and motivates people to be tough & determined.
Azuka sees a powerful future in every human being and strongly believes that every human has "The Power to Excel" only if they are willing to try just a little hence the creation of his website loaded with motivation,strength, inspiration & positive energy.
Azuka is an international motivational doctor, author & likes to play soccer. He is constantly under construction, not a perfect being but believes strongly in achieving great things and charges you to be strong, confident and determined.
Connect With Azuka
Website: http://www.azukazuke.com
Facebook: https://www.facebook.com/authorazuka
Twitter: https://twitter.com/zubby34
Google Plus: https://plus.google.com/u/0/+AzukaZukeAuthor
Youtube: https://www.youtube.com/user/34zubby
Pinterest: https://www.pinterest.com/caloburnfit
Instagram: https://www.instagram.com/authorazuka
I'm very thankful to Azuka not just for this amazing interview but for his friendship and help with my speaking career.
Knowing that I could inspire such a powerful speaker is something I can take with me every time I walk to the mic as well as when I fill out those submission forms or send cold pitches.
Do You Have A Story?
I'm always looking to share new stories of transformation with my audience. If you have a story to share, then I hope you will get in touch.
I often say that there are people with more powerful stories than my own, they just don't share them with the world. We need all the inspiration and motivation we can get, so please don't be bashful.
I want to thank you for your continued love and support. I know I couldn't keep doing this without your being along for the ride.
I also know you have lots of demands on your time. You have a small amount of time for education, entertainment, and inspiration; and I"m blessed you will spend some of it with me.
Until next time God bless you and take care out there, Max